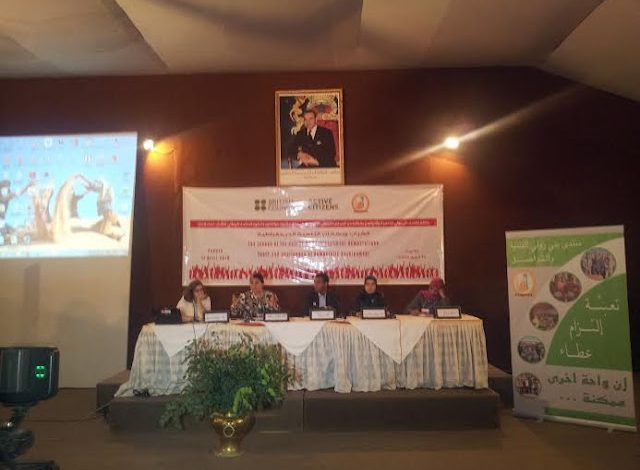 Events
"Youth and Challenges of Democratic Development" (discussion in a national youth forum in Zagora)
Bni Zouli Forum for Development and Communication in Zagora (FOBDEC), in cooperation with the British Council, organized a national youth forum, under the theme "Youth and Challenges of Democratic Development", on April 17, 2016, at Reda Zagora Hotel.
During the day more than 120 participants interacted actively with 12 youth leaders who represented Moroccan youth organizations and/or international organizations working in Morocco.  Here are some of the representatives:
– Policies  Analysis Center for MENA Zone, represented by Zaineb Ben Zima.
– Youth for Youth Association, Ahmed Rizki.
– Prometheus Institute for Democracy and Human Rights, Yasine Bezaz.
– "No Hate Speech Movement" national committee, Bouthaina Farsi.
Political participation, human rights, philosophy, and politics were among the sub-themes elaborated by speakers in the forum.
Participants between the ages of 18 to 32 showed their happiness in attending the conference.
Latifa, a 20-year-old student from Tisrgat near Zagora, said "it's a great opportunity to be here at this conference.  In fact, I learned a lot about the different experiences of young leaders who presented their talks here today. One of them that touched me a lot was a girl who comes from a rural area.  Ms. Rkia Qasm, the president of Afra Commune, shared her political experience and her point of view to upgrading young people's participation in the public issues."
Mourad, a member of a local association, made this comment. "This forum was exciting because the content was both crucial and interesting. There were speakers and participants from different parts of Morocco who shared various experiences about many issues related to youth."
Said, a president of a local NGO in a small village called Ait Kajour near Tamgrout, said, "I was invited to this forum by organizers. It was an event that gave young and emergent leaders in Morocco the opportunity to meet and talk different issues that matter as active citizens, who contributed for sure in the political, economic and cultural development of their country."
Organizing a nationwide event like this one wasn't an easy task, but it reflected the hard work of the team headed by Khalid Chahid, the FOBDEC president, who told us "this forum aims to discuss youth and democracy issues.  It's a fruit of a partnership between our organization and the British Council. The event gathers young leaders from four corners of the country to talk about their experiences in networking and political participation among others.
Our hope is to create a strong youth movement to contribute to the democratic development in Zagora and the region."
The forum was finished by an award ceremony in which Active Citizens program participants received their certificates and posed for a group photo.
Written by: Mohamed El Boubakri