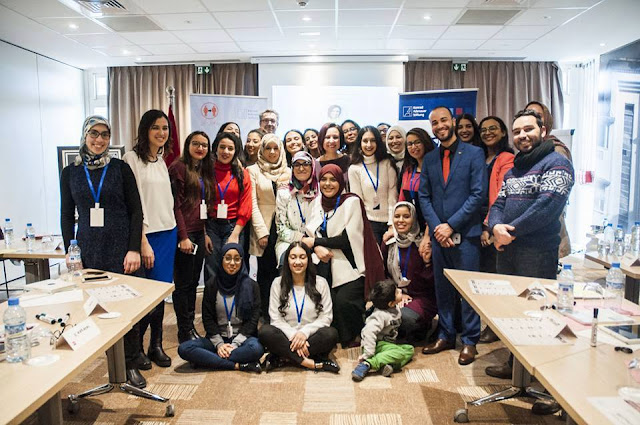 Events
The First Edition of "Young Women Diplomats Academy" in Morocco
Out of the belief that there is no tool for development more effective than the empowerment of women", on the 26th of January, "Without She, I will never be a He" organization in partnership and collaboration with Konrad Adenaur Stiftung Organization launched the 1st Edition of its kind in Morocco of [YOUNG WOMEN DIPLOMATS ACADEMY]. The academy brought together 20 outstanding young Moroccan women to learn more about Leadership, Public Speaking, Diplomacy, UN protocol as well as comparative politics to hone their skills in those areas, create a network and be able to be the change they want to see in their communities. According to Youssef Gherradi, the president of the "Without She, I will never be a He" organization, the selection process was really tough and very competitive especially since they have received 209 applications from all over Morocco. The organizing committee had to be rigorous in scrutinizing and selecting the participants which has been done successfully because the differences in backgrounds created an impeccable richness that contributed to creating an unbelievable harmony.
The first part of the Academy took place in Rabat, Ibis Hotel, where 3 days of intensive training were programmed.
On the first day after Mr. Gherradi welcomed everyone, he gave the floor to Dr. Helmut REIFELD, the resident representative of KAS in Morocco who was delighted to see young Moroccans striving for success and change. The first training was conducted and framed by Mr. Andreas Marchetti, who is the founder and director of Politgott GmbH. He gained insights into international organizations as a trainee at the European Parliament in Luxembourg and at NATO in Brussels. Furthermore, Andreas Marchetti has worked on the European Neighborhood Policy (ENP) ever since its launch in 2003/2004. Together with Tobias Schumacher, College of Europe Natolin, and Thomas Demmelhuber, University of Erlangen-Nürnberg, he was commissioned to edit the Routledge Handbook on the European Neighborhood Policy, published in December 2017, an authoritative collection of texts to cover the most important themes, developments, and dynamics in the EU's neighborhood policy framework. In addition, he has been working throughout the region and has particularly been active in training for the offices of Konrad-Adenauer-Stiftung in the Maghreb since 2013.
The first day Mr. Andreas provided an introduction to the training and dived right away into discussing communication by using different activities, such as the Ice breaker "THE BUS STOP" which was meant to allow participants to get to know each other in an unconventional way. The activity created an instant harmony that lasted for the entire duration of the training. Participants got also the chance to learn more about public speaking: the various tips and techniques that they could apply while delivering their own speeches. By the end of the day, and just before ending the session, participants had an incredible opportunity to listen to a #success talk. The first guest was Lamia Bazir, a 27 years' Government Officer, Humanitarian, and Advocate for Youth and Women.

Born in the port city of Mazagan (El Jadida, Morocco), Lamia nurtured an interest in and a commitment in favor of the most disadvantaged. Her volunteering activities and contact with different populations enabled her to acquire a more sophisticated understanding of her society and to gain values of empathy, persistence, and hope, thereby reinforcing her will to have a positive impact. It was quite clear that Bazir's speech ignited inside the participants an appreciation of their own little achievements which was reflected in their positive feedback and engagement in the discussions. She was really successful in creating a lovely atmosphere and connection with the participants. As described by Selma Aittaleb, a participant from Meknes: "Lamia Bazir is a real CHANGE MAKER".
The first session of the second day was devoted to the "guidelines to have a good speech presentation". Mr. Marchetti suggested a set of practical techniques and tricks related to voice intonation, gestures, and verbal, which play a major role in helping a speaker deliver a successful speech. After that, participants got the chance to analyze 3 videos with the aim to further explore more helpful important tips. By the end of the session, participants were finally assigned to write a 2 to 3-minute speech about their vision and mission and about what matters to them bearing in mind one crucial tip which is "Be yourself, and mean what you say."
After lunch, it was time for participants to put into practice what they had learned about Public Speaking-in other words, "Show Time". All I can say is that every participant did an OUSTANDING – PHENOMENAL job in delivering a genuine powerful speech that had effects to inspire, empower, and influence; this is something that Mr. Marchetti himself acknowledged and praised. The amount of support and encouragement was unbelievable. What was much more interesting is the part of the feedback. As much as the participants were really supportive to each other, they were objective for they provided each other with great recommendations for things they need to improve and work on, which resulted in making each one of them feel proud of the work she did but feel the urge for more practice and work. Then Mr. Andreas moved into the next chapter of the training which was about Leadership, providing participants mainly with guiding principles and different ways of leading. He stressed the idea that "You cannot be a leader without being inspirational."
The second day of the training wouldn't come to an end before listening to another #success_talk with an incredible speaker Karima Rhanem. The latter

is the director of the International Center for Diplomacy. She is a Moroccan and international development and communication expert with a specialty in governance and public policy advocacy with over 15 years of experience working with and managing civil society and youth programs with multidisciplinary organizations. She

has been named winner of the 2017 Pan-African Humanitarian Award, the first Moroccan young woman to be nominated for this prestigious 

award

in the category of "Young Achievers Award on Social Leadership and Nation Building." Mme. Rhanem talked to the participants about her academic path as well as her professional career as a Moroccan woman working in the field of Diplomacy. She also shared insights about the challenges that women face in general and diplomats in particular. She addressed the various aspects that participants need to be aware of when navigating through the world of what she called "Citizen Diplomacy". It's really crucial for us to be aware that while taking part in any conference, seminar, workshop, or training, we are no longer representing only ourselves but rather our country. So, we have to bring the best of ourselves and be good ambassadors. Throughout her speech, participants were really moved, and they were able to relate to many of the points she shared. It was the best way to end the second day.
The last day of any training is always the hardest. Not only does it mean that the journey had come to an end, but also it's time to either say "see you soon" or "goodbye", which is either way not easy. For the last day, participants learned about the characteristics of a real leader, the importance of having a mission statement to pursue a cause, tips for enhancement, the analysis of actors and positions, and the importance of using impact logic and models for a plan. One of the major aspects that every participant has to bear in mind is that when starting a project, she needs to look for the "who" before the "what"; in other words, she needs to find people with common values who have a strong commitment towards the cause she's striving for as well. An interesting activity to test to which extent participants were able to use their leadership skills in working in a team was the following: it is divided into parts. In the first part, each 4/5 members team was asked to choose a card and then write a note to the person sitting next to her. Their cards needed to go in a circle so each one of them gets the chance to write for the other. Once each member gets her card back, she read the notes. In the second part, each team is given 10 cards with 3 permanent markers and asked to make a tower out of it. After the time set for the activity, Mr. Marchetti asked participants to stop. It was mind-blowing to see how each team created its own tower differently; the most important aspect of the entire activity is to be able to think outside the box – and that is what enabled one particular group to stand out from the rest. Mr. Marchetti beautifully ended his training with his note in which he expressed his appreciation and gratitude for the commitment and enthusiasm all of the participants have demonstrated. He acknowledged the incomparable job each participant had conducted.
When this had been done, the session had to come to an end, but just before calling it a day, participants had to listen to the last #success talk with the last special speaker Amal Chabach. She is the first woman sexologist not only in Morocco but in the whole MENA region. She has taken part in many conferences and seminars on sexology nationally and internationally. She has been featured on Moroccan national TV and radio as well. Mrs. Chabach took participants on a journey through sharing her academic path as well as her professional one. Some of the valuable lessons shared were "when one gets interested in something, he/she needs to search", "if you believe in something, don't abandon it no matter how hard life gets and no matter what others tell you", and "our biggest fear is doubt; when you start doubting what you're doing, then take a moment to assure your brain that you can do it. It was an incredibly inspiring session indeed.
Straight after Mrs. Chabach's speech, Mr. Youssef announced that the first training came to an end, and it was time to deliver the certificates of participation, but first, it was time for each of the organizers to give his or her final speech. The start was with Mr. Gherradi, the president of the "Without She, I will never be a He" organization who expressed his magnitude happiness, and pride for the great work done by his team and Mr. Andreas as well participants. The same note was shared by his partner Abir Ib, the representative of the KAS organization who was very appreciative of the efforts of everyone involved part to make the training a great success. She also invited participants to use what they learned into contributing to making a change in their communities and then yielded the floor to Mr. Marchetti who again expressed his gratitude for the participants' engagement which exceeded his expectations. Indeed, the first training of the first edition of the "YOUNG WOMEN DIPLOMATS ACADEMY" was a huge success. 
Tlaytmass Saou is twenty-two years old. She is a B.A Graduate of English studies with Linguistics as a major. She is a diplomat at Young Women Diplomats Academy and an Alumnus and Ambassador at Study of the United States Institute for Women's Leadership. She is also an ambitious, dynamic, and committed young woman interested and invested in Creative Writing, Youth Empowerment, Translation and International Relations, and Diplomacy. Tlaytmass is also passionate about traveling, books, photography, SPOKEN WORD POETRY & Storytelling.