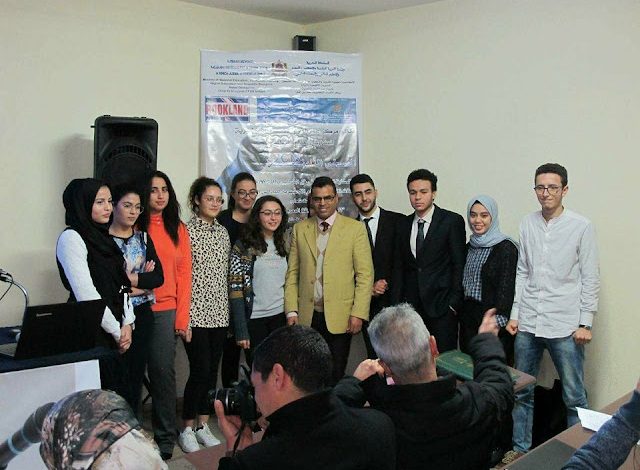 Events
The 8th Edition of the Local Public Speaking Contest : The First of its kind in Omar El Khayyam CPGE Center
Rabat, Morocco

On the 17th of January 2018, Omar El Khayyam CPGE Center Organizes The 8th Edition of the Local Public Speaking Contest 2018 in Collaboration with the MACECE, RELO U.S.Embassy Rabat, Books for Africa, Bookland Publishing, Ed-Links-Morocco, and The International Court for Arbitration and Mediation of Commercial Disputes.


Our Warmest Congratulations must go to "Omar El Khayyam Center for Preparatory Classes to Higher Schools", CPGE Rabat for the outstanding success achieved by " The 8th Edition of the Local Public Speaking Contest 2018"  under the theme "Let's all cherish our common knowledge heritage" and the topics of participants were about "Knowledge is a virtue but futile without values". 

There were 15 participants: three winners from last year contest, namely Soukaina Riyach, Salma Chliyah, and Lamia Sif who reflected on their participation in the local, regional, and national CPGE public speaking competition and twelve new contestants whose names are as follows: Wassima El Bouri, Mhamdi Cheradi Kenza, Oumaima Rachadi, Affaf Benhaloum, Nada Nabat, Soukaina Riyach, Wiam Kebbou, Hamza Youssoufi, Fadwa Ettahri, Taha El Azizi, Chaimae Asri, Ilyas Announi. Among these contestants, three winners were selected to qualify for the regional contest which will be held in March 2018, and then to the national contest in April 2018. The three winners are Nada Nabat, Wiam Kebbou, and Chaimae Asri.

The main aim of "The CPGE National Public Speaking Contest" is the following: 

• It brings together the best speakers from all over the country for a two-day meeting of cultural exchange and public speaking competition.

• It showcases the very highest standard of public speaking from all over the country,

• It gives participants an opportunity to meet and engage with other young people and professionals from different public and private CPGE schools around Morocco.
The success of the event is mainly due to Omar El Khayyam dedicated, committed and passionate students who have proved to be real heroes, ascendant leaders, effective public speakers, and prominent communicators; without forgetting the rewarding help and guidance of the school administration and especially the ceaseless assistance and the support we receive from Omar El Khayyam School principal, Mr. Ahmed Asini who is always collaborative when it comes to the professional development of both students and teachers alike. 

Meanwhile, we are strongly indebted to the different institutions who have effectively collaborated with us to make the event a real success, including the "Moroccan American Commission for Educational and Cultural Exchange" which was represented by Ms. Ahlam Daoudi, Program Officer-Teacher Grants, and Social Media; Ms. Sara Robyn, Program Officer for U.S. Grantees, and Mr. Moustapha Laalioui, Alumni Officer. Special thanks go to Dr. Russell Barczyk, the Regional English Language Officer (RELO) for Algeria, Libya, Morocco, and Tunisia, U.S. Embassy, Rabat, Morocco. We are also indebted to the American organization "Books for Africa" represented by Professor Mustapha Walaf as its head contact in Morocco. Great thanks go to Bookland Publishing and Ed-Links-Morocco represented by the ELT Supervisor Khalil Zakari. Special thanks also go to the ELT National Coordinator and Supervisor at the Moroccan Preparatory Classes (CPGE), Mr. Abdelati Bennani, the pioneer and the educator who has launched the "CPGE National Public Speaking Contest" project in Morocco eight years ago and who is still training and guiding the coaches and supervising the contest at the national level. 

Last but not least, we would like to thank the International Court for Arbitration and Mediation in Commercial Disputes represented by its president Dr. Mohamed El Aouad for its ceaseless assistance and collaboration. 


Written by: Mustapha Walaf
ELT Instructor
Public Speaking Coach and Coordinator
Omar Elkhyyam CPGE, Rabat