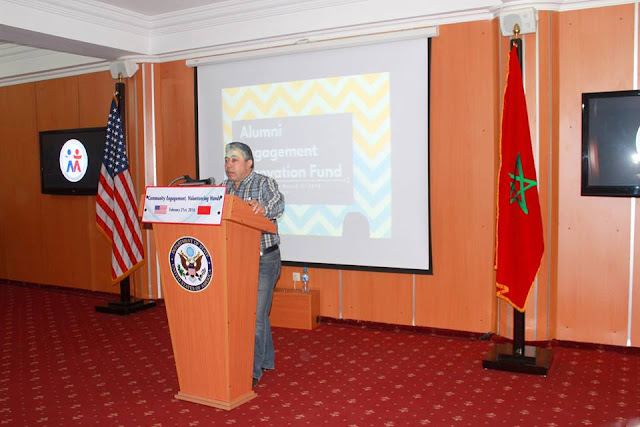 Tiddoukla Association's First Alumni Day
Photo by : Kamar Erraji
On the 21st of February 2016, at EMAA Business School in Agadir, about 64 people ranging from university students to teachers attended an event held by both the Tiddoukla Alumni Association and the Public Affairs Section of the U.S. Embassy in Rabat under the theme of Community Engagement, Volunteering Hands. Nutzman, a representative of the U.S. Embassy gave a welcoming speech along with Mr. Ahmed Atlagh, the president of the Tiddoukla Alumni Association, who gave the green light for the presentations to start.
The first presentation was presented by Loubna Arrach, an Alumni coordinator in the public affairs section of the U.S. Embassy. The presentation shed light on the Alumni Engagement Innovation Fund. The latter is to promote Alumni initiative solutions to global challenges. Loubna then gave the floor to Houria Addi as the 2014 AEIF winner project. Her project is called Youth: Let's Learn Politics. This project aims to promote democratic citizenship and civic engagement among youth and support their political participation to push forward their voices in society.
"Being a member of Tiddoukla Association is an incredible experience for me as a budding young leader," said Talal Belgdida, an undergraduate student at the department of English. "Today I managed to expand my network and share my thoughts with a set of highly motivated students. I really appreciated the theme of today which revolved around promoting volunteering among youth. We had a lot of fun together discussing various projects and issues."
Immediately after the break, Hassan Laaloua, the vice secretary-general of Tiddoukla, ended up with a presentation entitled "Promoting Volunteering and Social Activism among the Youth." Then, the group hit the road to Agadir Beach where all the people present ate Lunch at La Cote D'or Restaurant after handing out certificates of attendance.
In an interview with MoroccoPens about the event, M'hamed Jamili, a university student from Ibn Zohr University stated, "It was actually one of the special experiences in my life; we got the chance to know more about the Exchange Programs, we made new friends from and with different backgrounds and perspectives, and we also benefited from other applicants' experiences in the Exchange programs.
"