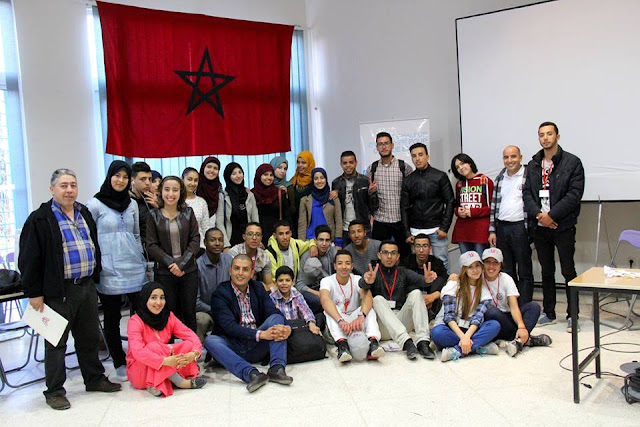 Events
The Birth of Tiddoukla Youth Club
At S.O.S Village, Agadir, on the 13th of March, over 27 university and high school students attended the assembly of setting up a new Youth Club. The latter is under the umbrella of the Tiddoukla Association. Mr. Atlagh, the president of Tiddoukla, welcomed all of the participants. He gave the floor to Kamar Erraji, a second-year student of English and one of the organizers, in order to give a general idea about the Tiddoukla Association before stepping through the door of the NEW Youth Club.
The video of the last event of Tiddoukla, 'Alumni Day', was presented to the attendees as a flashback. Right after that, Mr. Atlagh, the president of Tiddoukla, shed light on the reason for creating a new club. One of the reasons is to have a sense of belonging for the group (alumni, students, and teachers) and the community as a whole. Moreover, it will provide training on how to assume responsibility. Developing organizational, managerial, and evaluation skills is another one of the reasons.
The President of Tiddoukla made a workshop in which all present were separated into four groups: the "F.A.T" team, the "Save Your Life" team, the "junk wizards" team, and "Holy Ramadan" team. F.A.T stands for First Aid training. This training aims to raise awareness about the importance of fast aid. The second team chose Reading for it is of paramount importance to save people's lives. The project aims to make reading enjoyable and have people read more books because apathy has been shown towards reading. The third team, the junk wizard, went on to talk about artistic recycling. This is to recycle unused junk. The goal is to engage students in social work along with protecting the environment in a fun way. The last team, holy Ramadan, is to hold 'EFTAR' in different places once a week and create 'Quran' competitions among students in the month of Ramadan. All the various teams have been given marks, and they were as the following:
All of the groups did a great job as far as teamwork was concerned. After rating the teams, elections started to see who would present the Youth Club board. Thirteen people competed to get their places on the new board. After finishing the process of voting, only seven were selected to be the staff that would run the club. The following people gave birth to a new club called Tiddoukla Youth Club.
Coordinator
:
Kamar Erraji
Deputy Coordinator
:
Ayman Boutadghart
Secretary General
:
Ayoub Ait ElKadi
Vice Secretary-General
:
Zaina Dali
Treasurer
:
Mohamed Ouhssine
Counselor
:
Youssef Mazzouz
The board members of the new club