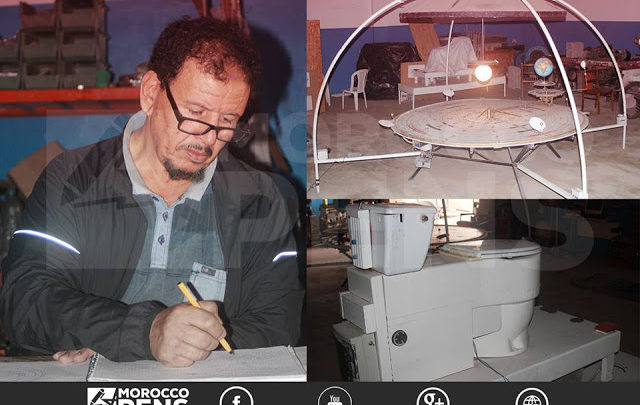 Agadir, Morocco
In a marginal area near Agadir (Kasbat Taher),
south of Morocco, an illiterate and self-made person has impressed the brains of the surroundings. His passion and ambition towards mechanics have led him to accomplish groundbreaking works, if not inventions, to enrich humanity. Lahoucine Aouzan, a man in his 60's of age, didn't attend school, ever. He works as a mechanic of ships. This profession has enabled him to know the tricks on how things are created. To put it simply, he knows the fundamentals of mechanics.
His first invention was a medical toilette designed for armless people (Phocomelia). This latter has special work to do for them; it can wash and clean their butts using soap and water.  In addition to this, it can do that in a fast and effective way in no more than 15 minutes using only 0.5 liters of water. He called it "AL KARAMA. " This medical toilette got a patent, and it is the first one in the entire world. There are other models in a few countries, but this one is unique.
Lahoucine Aouzan recreated an electronic bed for pregnant women at hospitals to sit back comfortably. They can do it themselves without calling a nurse to make them sit appropriately, and this is what makes the creation even more effective. This electronic bed was not an invention, but he just created more copies of it and gave it to nearby hospitals.
After that, his mind was still working and trying to make something new or a never-before-seen invention. So he decided to invent an Astronomical Clock. This consists of a regular clock, the earth, the moon, and the sun. This clock can show you phases of the moon and the four seasons of the year. Not to mention it includes annual and monthly Horoscopes. The Astronomical Clock can show you the clock of five countries of the world: Australia, the United States, France, Saudi Arabia, and Morocco. 

It also shows you how the earth circles around the sun as well as how the moon circles around the earth. Lahoucine Aouzan said that this astronomical clock was just a prototype to make a definitive version soon. He got a patent for it, too. What a mesmerizing invention!!


Last but not least, BBC Arabia Channel and Tamazight Channel reported about his inventions. This man should not be listed with unknown people on this earth, but he should be shown to all generations to show Morocco still has super minds that can lead humanity. Unfortunately, many ordinary people, students, and teachers do not know him yet, and they have not seen his inventions. It's a pity though.
In brief, no matter how educated you are, and no matter how many degrees you've got, universities and schools still cannot produce inventors and those who can create impressive things. If you want to free your mind and do brilliant things, do it after school or after getting your degrees.